Consumer payments are increasingly moving online thanks to user-friendly mobile technology and the demand for contactless transactions. However, many businesses continue to rely on paper-based processes for presenting invoices and accepting invoice payments.
Moving away from legacy processes may seem daunting, but accepting online invoice payments is easier than businesses may think. It starts by identifying a solution that makes online invoice presentment and payments acceptance intuitive and seamless. Digitizing invoice payments can reduce or eliminate manual processes and physical contact associated with printing, sending, and processing paper-based transactions.
If your business is considering an online invoice payment solution, here are five features to shop for.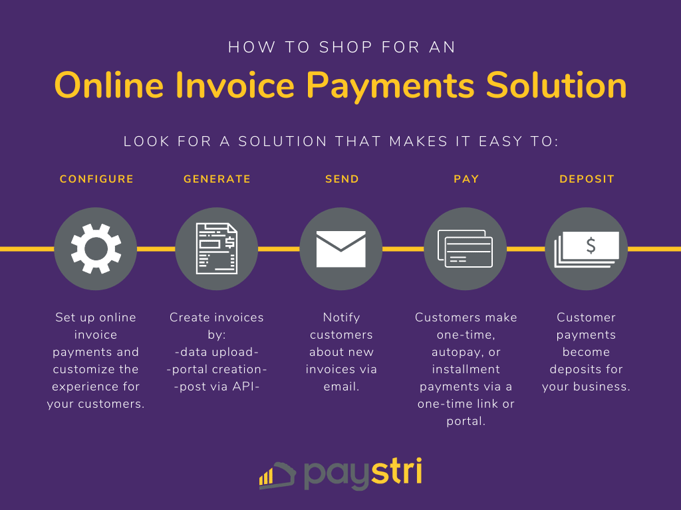 1. Customizable Account Configuration
Businesses that issue invoices might be managing business-to-consumer (B2C) transactions or business-to-business (B2B) transactions. An invoice management solution will allow your business to control how customers access invoices and make payments according to their type of business. B2C transactions will typically require single-user access while B2B transactions will require multi-user access.
The solution should also allow your business to select invoice presentment only, or invoice presentment plus payments acceptance. And finally, it should allow you to configure the guest registration experience so you can display relevant options and capture all of the information you need.
2. Easy Invoice Generation
Invoices can be created in different ways and you'll need to select the option that works best for your business. Look for a solution that supports manual uploads, customer portal creation, or posting via API.
3. Quick Customer Notifications
Send invoices automatically via email addresses provided by customers during registration. Also look for the ability to schedule automatic email reminders for outstanding invoices.
4. Diverse Payment Options
Customers are looking for options when paying invoices. Your solution should give customers the ability to:
Pay via a one-time online payment link
Make payments via a portal where customers can also view history, schedule payments, and more
Schedule future one-time payments
Allow partial payments via an installment plan
Automate repeating payments
Add, edit, or remove payment methods on file
5. Fast Deposits
Fast and easy invoice payments are great, but only if they are deposited into your account quickly. An online payment solution should streamline bank account deposits, giving your business immediate access to its funds.
Shopping for an online invoice payment solution? Click below to learn more about Invoice Manager.