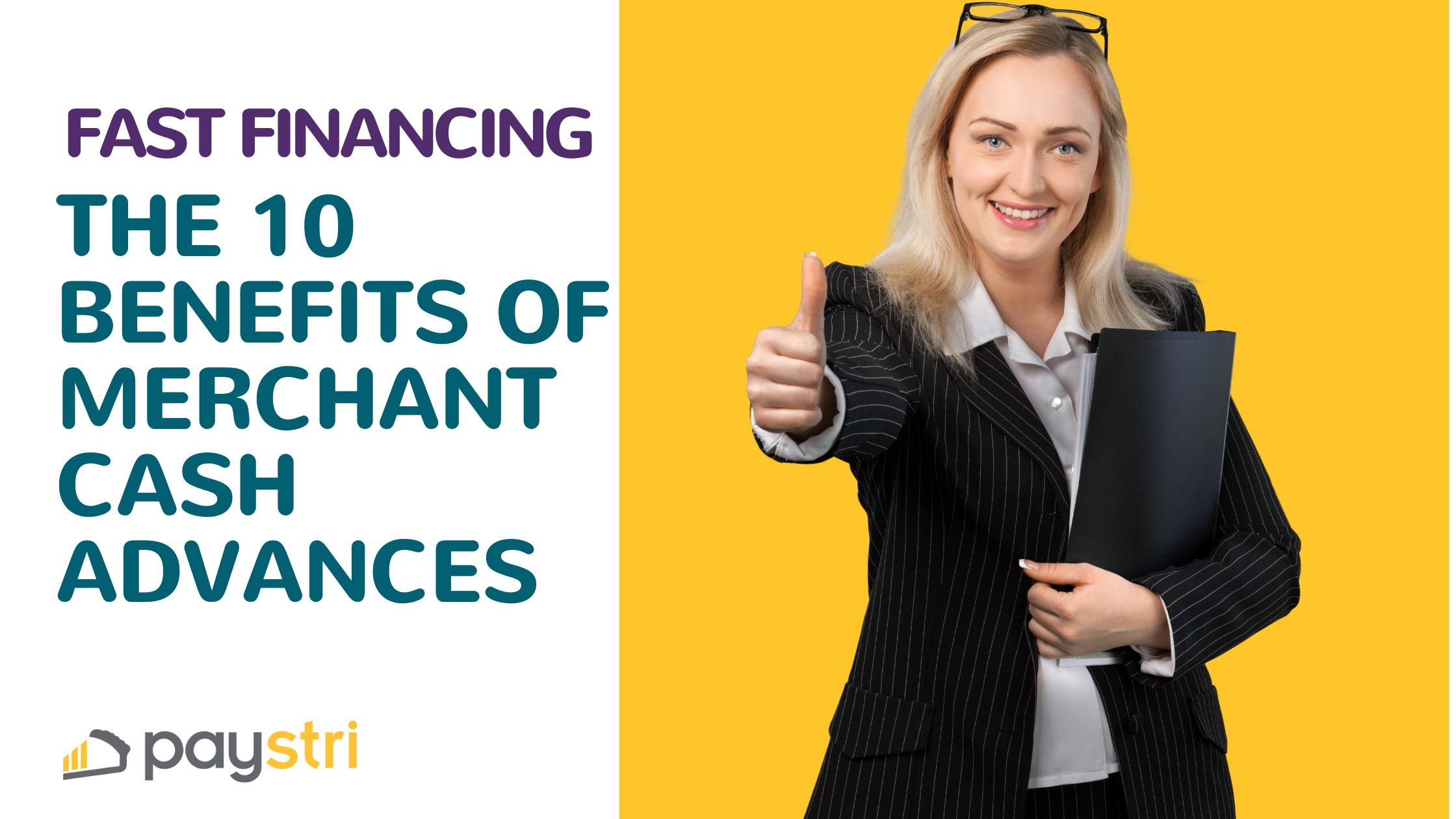 Payment Processing
Fast Financing for Businesses: 10 Benefits of Merchant Cash Advances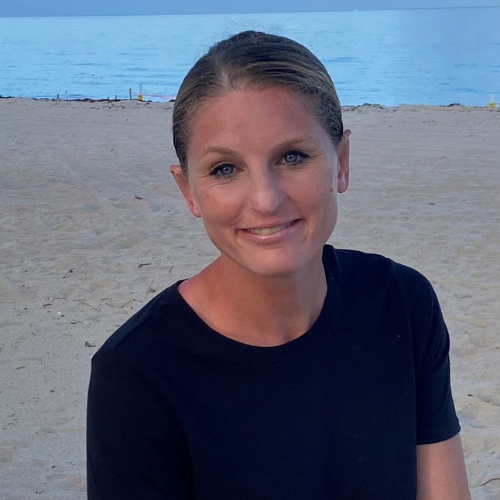 Meredith Weigelt ● May 3, 2023 ● 6 min read
Paystri Cash is a quick and easy way to get the funds you need to stay competitive and grow your business.
Imagine you're the owner of a home décor boutique in a bustling city. For the most part, business has been good this year – maybe not "pre-pandemic good," but it's getting there.
Then you hit a rough patch.
Lately, you've struggled to keep up with the ever-changing trends in interior design. Whenever you think you've found a product that will sell, a new fad comes along, and your inventory collects dust.
Sure, you've gone to the trade shows and have stayed on top of your social media and digital marketing, but it's not enough to stay ahead of the curve.
Meanwhile, bills are piling up, and you're starting to feel the pressure.
That's where merchant cash advances come in – a quick and easy way to get the funds you need to stay competitive and grow your business.
Benefit 1: Fast access to cash
Traditional loans can take weeks or even months to process, leaving you unable to address pressing financial needs. On the other hand, merchant cash advances typically get processed in a matter of days.
For example, say you operate a small bookstore and want to restock your inventory for the upcoming holiday season. But, without sufficient funds, you risk losing out on potential sales, putting you behind your competitors.
Or maybe you're a dental practice that needs to buy new equipment to improve patient care. Again, waiting for a traditional loan to come through could result in lost revenue and time.
In both these cases, a merchant cash advance would have provided those businesses with the funds to address their needs quickly while keeping the company moving forward.
Benefit 2: No collateral required
Unlike traditional loans that often require business owners to put up their personal assets, merchant cash advances don't require collateral.
Translation: You won't have to risk losing your property, car or savings if you can't pay back the advance.
With merchant cash advances, the amount you qualify for is based on your credit card receivables, so you don't have to worry about putting up collateral.
Here's how the process works with Paystri's cash advance program, Paystri Cash:
Paystri buys future card payment receivables at a discount;

In return, businesses can receive a cash advance of up to $40,000 by leveraging their Paystri merchant account;

The money is repaid daily at a fixed percentage – no banks or complicated loan forms are required;

Approval is subject to review and credit check (a credit score of 630 or higher is required to qualify).
Benefit 3: Simple Application Process
This isn't a complicated application process.
By comparison, traditional loans require extensive paperwork, collateral, and a lengthy approval process. A merchant cash advance? In some cases, those can be completed in minutes, as most require minimal documentation – sometimes, all it takes is a few months of bank statements and proof of revenue.
Benefit 4: Flexibility When It Comes To Repayment
Are you hoping to manage your cash flow more efficiently and avoid cash crunches during unexpected slow periods?
Fortunately, you have various repayment plans with merchant cash advances. You could be offered a fixed percentage of sales deducted daily. Or you may have a fixed payment schedule. And some providers allow you to renew or refinance the advance if necessary. Approximately 70% of Paystri Cash customers renew for another cash advance.
Benefit 5: High approval rates
These loans' relatively high approval rate provides businesses with an alternative financing option they might not have been eligible for with a traditional bank loan. Plus, the quick and straightforward process means you can often receive an approval within days.
Part of the high approval rates is that your merchant cash provider will likely examine your revenue and cash flow instead of going off your credit history. Translation: Businesses with lower credit scores or short operating histories can still qualify.
Benefit 6: No restrictions on how you use those funds!
Need to purchase inventory? Were your expansion plans halted? Or do you simply need to account for unexpected expenses?
That is fine with a merchant cash advance, as providers trust the recipient business owners to use the funds for any purpose they want. On the other hand, traditional loans typically come with a long list of restrictions for how those funds can be used.
Benefit 7: No impact on your credit score
To be clear, recipients are receiving an advance, not a loan.
This is an important distinction to make. The reason? A loan can significantly impact your credit score because of the credit checks and/or inquiries that ensue. The other option is nothing more than an advance; hence, no credit check and no inquiries. And no hit to your company's credit score.
Benefit 8: Easy qualification requirements
Likewise, you don't have to go through stringent requirements with a merchant cash advance (think collateral and high credit score).
That said, most providers want to see that you've been in business for a predetermined amount of time and have a consistent stream of revenue. Regardless, those qualifications are far more forgiving than a bank loan's requirements.
Benefit 9: It doesn't affect your credit score
Again, one option can cause your credit score to take a bit of an initial hit due to the inquiries and credit checks typically required with a traditional loan.
But you can actually improve your credit score with advancement. Besides skipping the credit check, you show lenders that you're a responsible borrower by making timely payments.
That might not help you now, but there may come a time when you need to secure more financing – only now, you may be offered better terms and lower rates. Some lenders even report cash advance payments to business credit bureaus, which also helps boost your credit score.
Benefit 10: Long-term relationships with lenders
Equipment can break. Big clients can move on. Shipments can get lost or delayed.
Disasters, unfortunately, don't work off a schedule, and as the pandemic reminded all businesses, you can never have enough contingency plans to cover everything.
That's why it's essential to develop relationships with lenders. As long as you're consistently making payments, you might be able to negotiate terms and rates for future financing. And, of course, maintaining a long relationship with a lender means they know your needs and cash flow better than almost anyone.
The bottom line?
Merchant cash advances can be a lifesaver, particularly for small- to mid-size businesses and relatively new companies. Smaller businesses might not be able to weather a financial storm as easily as their larger counterparts can. And new-ish companies might not have the credit history required to take out a loan – even if business has been good.
That's not the case with cash advances.
Connect with Paystri today to see if your business qualifies for a merchant cash advance. Click here for more information!